Kino Sandals offer over 17 different styles using natural leather uppers and natural rubber soles. They are all hand cut, assembled, and glued in our traditional sandal factory since 1966. It is Located in Kino Plaza at the corner of Greene and Fitzpatrick Streets in Key West Florida.
All Original Designs
The popular and durable sandals are all original designs by Kino.
They make a practical and inexpensive gift for all ages.
They have been widely imitated, but they have never been duplicated.
The fundamental difference is that Kino uses the traditional hand made techniques to assemble his sandals.
The talent of the craftsmen can not be replaced by a machine.
Our History
As soon as he was able to, Kino and his family left Cuba for a new life in America.
After years of scrimping and saving, thanks to his lovely wife Margarita , they saved $3,000.00. That along with a bank loan of $7,000.00 gave them just enough money to start a sandal factory in Key West.
The original factory Kino made was located at 105 Whitehead Street where it stayed for 10 years. In 1976 the factory was moved to the corner of Green and Fitzpatrick where it still sits today. The Kino Plaza building is a reminiscent of the Cuban style buildings Kino knew as a youth in Cuba. He grew up in Cienfuegos, Cuba, about 100 miles south of Havana. The unusually high ceilings let hot air drift outside while keeping the terra-cotta tiled floors cool. The garden in the atrium offers shoppers a pleasantly shaded area that allows for relaxation in Key West's balmy summer breezes.
By 1977 Kino's Sandals employed 11 people including Kino's son Robert and wife Marguerita. By this time they were up to 17 styles of sandals. Kino was reluctant to expand beyond this point. Although customers continually wrote him to send and sell shoes by mail, he respectfully declined stating that "My product is unique to Key West." And that along with his "low price and great quality" keep customers coming back.
We've come along way since then! Kino's now offers over 20 styles of sandals, plus wallets, purses and more! Ask any local, not if they own a pair of Kino's Sandals, but HOW MANY they own! A true Key West treasure and classic, we all love our Kino's Sandals!
Legacy
Roberto "Kino" Lopez learned the old world tradition of leather sandal making in Cuba. He perfected the trade and brought his skills with him to Key West in 1965. The company started small with just him and his lovely wife, Margarita. Together they ran the factory with a few faithful employees. Over the years, their son, Roberto and daughters Ana Lopez  and Christina Lopez Ruiz, joined the family tradition and sandal making. To this day, the Lopez family enjoys making their Kino sandals and carrying on the family legacy.
Made Only In
Key West
Kino sandals are made on location in Key West, Florida. Being only 90 miles from Cuba keeps them close to their ancestors homeland where they have been worn for decades. Kino's Plaza is located in the heart of old town on the corner of Green Street and Fitzpatrick Street, where traditional methods are used to make these unique sandals to this day! Stop by and check us out and see how our Kino's sandals are made and why they are so popular. We bet you won't leave without a pair!
How We Do It
All of the sandals are handmade using natural leather straps and natural rubber soles. They are each assembled and glued in our traditional sandal factory, where the "Sandaleros", the old world sandal maker, works diligently at his or her station. In the aisles around the Sandaleros you will see boxes of unfinished sandals as they move through different stages of manufacture. The smell of leather permeates the room where you may select from a wide variety of sandals with your size and color preference.
In 2016 Kino Sandals celebrated their 50th Anniversary. Mr. and Mrs. Lopez were proud of the fact that for the last 30 years the company was administered by their three children- Robert Lopez, Ana Lopez Johnson and Christina Lopez Ruiz. The second generation played a major role in evolving the company through the closing of many USA shoe manufacturers/ suppliers. We are proud of the fact that Kino Sandals are still made in the USA.
If you are in Key West, please feel free to visit and watch as our sandals are made.
We Welcome You to be part of our Family Legacy!
-Kino's Sandals- Inc.
Signup to be updated with our latest offers
WELCOME TO KINO'S
The One and Only Original Sandal Built in Key West.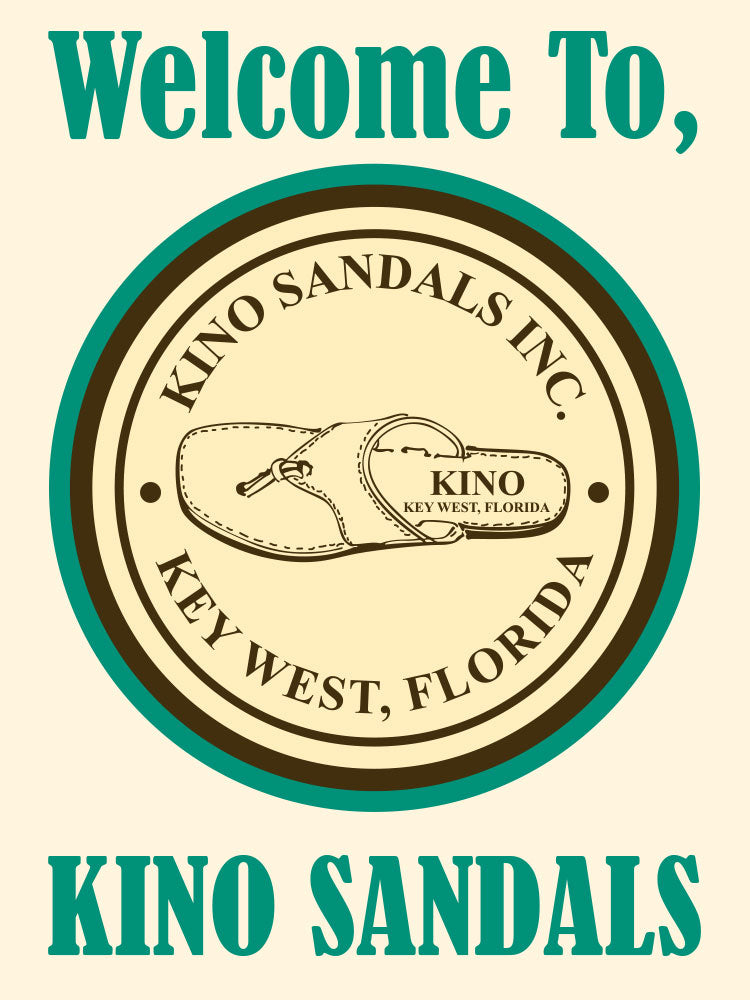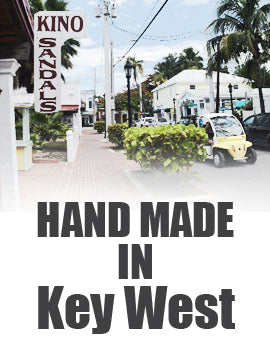 Custom Handmade Sandals
You Can Order Right to your Doorstep!

Kino Sandals offer over 17 different styles using natural leather uppers and natural rubber soles. They are all hand cut, assembled, and glued in our traditional sandal factory since 1966. It is Located in Kino Plaza at the corner of Greene and Fitzpatrick Streets in Key West Florida.

If you are in Key West, please feel free to visit and watch as our sandals are made.

Liquid error (layout/theme line 454): Could not find asset snippets/spurit_uev-theme-snippet.liquid